Two Documentary Films Chronicle Franco-American Culture and Language
Monday November 18, 2013 | 10:38 AM
Posted by Juliana L'Heureux
French Language Preservation: "Quand j'ai compris la réalité franco-américaine dans le Maine, j'ai compris le Maine" (Chelsea Ray).
French is spoken by a minority of people who live in Maine and New England. Although it's a minority language, thousands of Franco-Americans grew up speaking French before learning English. Bi-lingual French and English classes were once taught in Maine's parochial Roman Catholic elementary schools. Religious celebrations were conducted in French in Maine's Franco-American churches. Thousands of Franco-Americans continue to pray in French. Those Franco-Americans who had difficulty learning English experienced language discrimination.
Particularly, for these Francophones, language is important to their Franco-American history, heritage, religion and culture. Understanding French spoken in their homes and communities are part of their cultural identities.
But, does cultural preservation include protecting a minority language?
This question was asked after viewing the documentary film "Intimates Francophones" at a November 14th program at the University of Maine Augusta. In the film, native French speakers from Maine and Louisiana contributed to a dialogue with other Francophones who live in places where French is a minority language. Interviews included Francophones from Acadia (Nova Scotia), Ontario, and New Brunswick in Canada, as well as native Creole speakers in Haiti, who learn to speak French as a second language. Maine's French Heritage Language Program (MFHLP) is featured in the film (http://www.uma.edu/mfhlp.html).
"Intimates Francophones" is a 2012, documentary in French with English subtitles. In the film, native speakers discussed the challenges faced by Francophones who live in the Americas, including Haiti. This film was made with the cooperation of the Québec based Center of Francophonie of the Americas (Council for the Development of French in Louisiana or CODOFIL) with the Louisiana Office of Francophone Affairs.
"Réveil-Waking Up French", is another documentary and describes the relationship between loss of langauge and cultural preservation.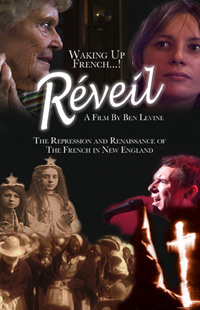 "Réveil" is produced by Ben Levine, a documentary film maker. "Réveil" traces the French heritage beginning with immigrations from Quebec and Acadia (Nova Scotia) to New England. Excellent documentation provides video of the persecution of Maine's Franco-Americans by the Ku Klux Klan. In spite of language discrimination, Franco-Americans interviewed in the film describe how they're supporting their cultural diversity through heritage language (French like it was learned at home) and French reacquisition.

Both films document the benefits and challenges of supporting bilingualism.

"Intimates Francophones" describes Louisiana, where French is supported as a minority language. In fact, the state built a tourism and recreation economy around the French Acadian culture, cuisine and language. This culture was brought to Louisiana over 250 years ago by Acadian refugees who experienced, in 1755, Le Grand Derangement (The Great Displacement). This colonial era tragedy occurred when British soldiers forcibly removed Acadians from their homes in Nova Scotia, confiscated their properties and separated their families. Acadians who eventually found their way to Louisiana assimilated with other immigrants already living in the territory and, together, they developed a Cajun culture. In Louisiana, bilingualism has been good for the state's ability to attract international tourism.

Similarly, Maine's economy should benefit from promoting bilingualism, because the state is bordered by Quebec and New Brunswick, Canada where French is spoken as a primary language by millions of people.
Challenges faced by those protecting French as it was spoken "chez nous" (at home) included interviews in the film with Francophones who experienced discrimination when they learned English as a second language.
In Maine, "Intimités Francophones" interviewed Yvon Labbé from the University of Maine's Franco-American Studies program in Orono, and Chelsea Ray at the University of Maine Augusta (UMA) and coordinator of the MFHLP. Don White, past President of Le Club Calumet in Augusta, also spoke about discrimination against Franco-Americans and the importance of taking pride in one's cultural identity.
Franco-Americans who learned to speak French at home were not taught to take pride in their bilingualism, said Ray.
Labbé described how Franco-American students at the University of Maine in Orono developed cultural awareness after coming together as a group. Often, Franco-American students had little understanding about their heritage until they met colleagues through the Franco-American studies program who shared their cultural experiences.
Understanding the Franco-American culture is important for anyone who is learning about Maine, says Ray, who once lived in California. "Quand j'ai compris la réalité franco-américaine dans le Maine, j'ai compris le Maine", she says. ("Once I understood the importance of Franco-American culture in Maine, I understood Maine.")
Both "Intimités Francophones" and "Réveil" interview people who share personal experiences about connecting their French language with cultural pride.
"Intimités Francophones" information website: http://www.projetose.com/#!__magasin
"Reveil: Waking Up French" information is at the website www.wakingupfrench.com